Kursus
Onkologisk fysioterapi
EMNE: Funktionel styrketræning. Funktionel styrketræning til patienter med kræft – lær hvordan du udarbejder et tilpasset individuelt træningsprogram på dette kursus om onkologi.
Om kurset
Tilmelding dig en enkelt dag eller begge dage via den røde knap til højre.

Pris inkl. forplejning, ekskl. overnatning:

Deltagelse begge dage (30. okt./31. okt. og 1. nov.):
3.800 kr.

Kun deltagelse den 30/10 eller 31/10: 2.300 kr.
Kun deltagelse den 1/11: 2.300 kr.

Læs mere om kurset (fuldt booket):
Onkologisk fysioterapi: Behandling af fascier
Funktionel styrketræning uden brug af redskaber og tunge vægte vinder indpas i behandling af patienter med kræft. Patientens egen vægt er i spil. Det gælder både for kræftoverlevere og de patienter, der er i rehabilitering under og efter onkologisk behandling.
Evidensen for effekten af fysisk træning til patienter med kræft er høj.
Kursusdagen er en blanding af teori og praktisk træning, og underviserne benytter sig af mange cases og praktiske eksempler fra klinisk praksis. På kurset får du værktøjer til, hvordan du kan designe individuelle træningsprogrammer til dine patienter.
Der er desuden fokus på motivation i forhold til den enkelte patient, som ofte ikke har overskud til at træne.
Kerri Winters-Stone og Kimi Daniel fra USA underviser på kurser i tæt samarbejde med Morten Quist og Kira Bloomquist. Dermed sættes kursets indhold ind i en dansk kontekst med eksempler på cases fra klinisk praksis i Danmark.
Læringsmål
Efter endt kursus har du et stort kendskab til teorien bag progressiv funktionel styrketræning. Og du har værktøjer til, hvordan du kan justere træningen op og ned efter den enkelte patients behov.
Målgruppe
Fysioterapeuter fra alle sektorer
Undervisere
Kerri Winters-Stone, PT, PhD. Professor at Health & Science University, Oregon, USA
Kimi Daniel, Senior Research Assistant, USA
Morten Quist, fysioterapeut, PhD, post doc, Rigshospitalet
Kira Bloomquist, fysioterapeut, PhD, Rigshospitalet
I samarbejde med
Dansk selskab for onkologisk og palliativ fysioterapi
Kerri Winters-Stone, PT, PhD. Professor at Health & Science University, Oregon, USA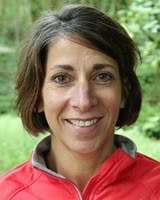 Kerri Winters-Stone, PhD is an exercise scientist and the Elnora Thompson Distinguished Professor in the Oregon Health & Science University School of Nursing. She is also co-director of the Knight Community Partnership Program and co-program leader of the Cancer Prevention and Control Program for the OHSU Knight Cancer Institute.
As a scientist, Dr. Winters-Stone's research focuses on the effects of cancer treatment on musculoskeletal health and cancer recurrence risk and the ability of exercise to improve health and longevity in cancer survivors. The long-term goal of her research is to develop prescriptive exercise programs for cancer survivors that meets their needs and preferences, optimizes their health outcomes, and provides the support and encouragement they need to stay active.
Kimi Daniel, Senior Research Assistant, USA
Kimi Daniel is a masters-prepared specialist in athletic training with undergraduate preparation in exercise science. She is also a certified personal trainer with the American Council on Exercise as well as a certified cancer exercise trainer with the American College of Sports Medicine.
Kimi has over 12 years of experience in physical fitness and strength training among elite athletes, general and special populations. Her experience includes managing medical emergencies, clinical treatment and rehabilitation of orthopedic injuries, developing individualized, safe and progressive training programs to meet the various needs of clients, participants or group classes. Including return to athletics, recovery from cancer treatment, improving activities of daily living for those with long-term disease or disability and overall improvement of quality of life.
For the past 4 years, Kimi has been implementing her expertise in exercise research intervention protocols for cancer survivors and assisting in managing those programs.
Morten Quist, PT, PhD. Research physiotherapist at University Hospital Rigshospitalet, Copenhagen, Denmark
Morten Quist, PhD, MSc is a physical therapist and a postdoc researcher at Rigshopitalet, the University Hospitals Centre for Health Research in Copenhagen with expertise in exercise for patients with cancer.
Morten is the cofounder of the 'Body and Cancer' program and founder of the EXHALE program. He is lecturer at the University of Copenhagen. Morten received his PhD from The University of Copenhagen in 2015, on the topic of Exercise and Advanced Stage Lung Cancer; and a master in Health Research from The University of Copenhagen in 2011.
Kira Bloomquist, PT, PhD, Denmark
Kira Bloomquist PhD is a physical therapist and research fellow, currently affiliated with the University Hospitals Centre for Health Research, Copenhagen University Hospital, Rigshospitalet.
Her main areas of interest relate to cancer survivorship and draws on hands-on experiences with cancer survivors as a physical therapist, as well as research related experience. Her specific expertise is within the field of exercise oncology, specifically during chemotherapy and with a focus on resistance exercise and breast cancer-related lymphedema. The translation of knowledge to clinical practice has been a driver of her work.
She is a member of The Danish Physical Therapy Society for Oncology and Palliation, where she has been instrumental in developing and implementing a continuing education course for physical therapists working within the oncology field in Denmark. Further, she formed Danish Dragon Abreast- the first Danish dragon boat team consisting of breast cancer survivors.
Praktiske oplysninger
På Danske Fysioterapeuters kurser følger vi sundhedsmyndighedernes covid-19-retningslinjer, der skal forebygge spredning af smitte.
Har du covid-19-lignende symptomer, også i mild grad, skal du blive hjemme.
Tilmeld dig
Onkologisk fysioterapi ᛫ Onkologisk fysioterapi